Introduction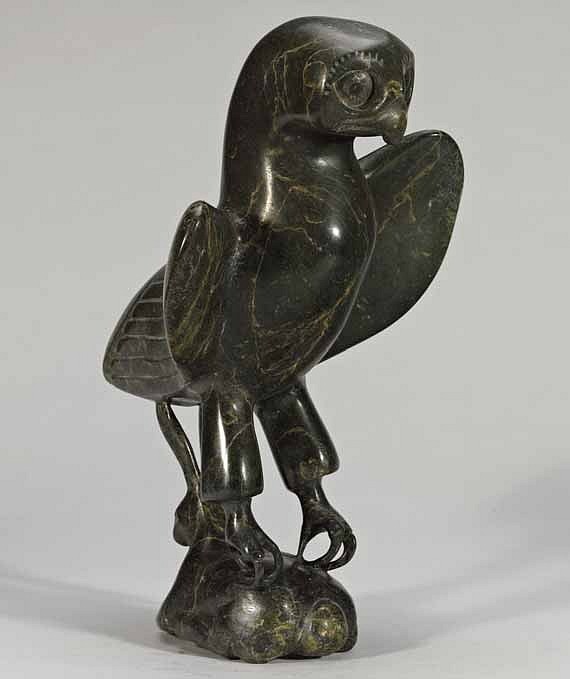 To see the Inuit Sculpture in stock, click on the WORKS tab.
At midcentury, approximately 20,000 Inuit were semi-nomadic hunter-gatherers, struggling to survive on the rim of the Arctic Ocean. A chance encounter led to an artistic explosion, which has produced stunningly sophisticated sculptures and graphics. Over the next fifteen years, the Inuit moved to permanent settlements, and art emerged as an important element in Inuit society. Differences in local stone contributed to the development of a variety of regional carving styles. After stone carving was firmly established, the Inuit were introduced to other media, notably printmaking and textile art.
Subject matter preferences varied from community to community. Realistic depictions of scenes from daily living co-exist with sculptures inspired by an animistic and shamanistic tradition, as well as with sculptures that draw on Christian spirituality. The whole body of work represents the triumph of imagination, creativity and determination over a fierce environment.
CAPE DORSET and KIMMIRUT (Lake Harbor) were blessed with a source of beautiful, easy-to-carve (relatively speaking) serpentine stone in Markham Bay. Cape Dorset has historically had a large body of active sculptors, as well as a well-established graphics tradition. Southern Baffin Island carvings featured naturalistic animals and people, but also sednas, shamans, and transformation carvings.
INUKJUAK and other Arctic Quebec communities were the first communities where James Houston organized carving for sale to southern Canada. Local stone was soft enough to carve, although not as beautiful as Markham Bay serpentine. Arctic Quebec carvers favored "slice of life" carvings showing scenes from daily life.
BAKER LAKE and ARVIAT, on the western side of Hudson's Bay, were not favored with easy-to-carve stone. Local stone was basaltic in origin, and very dense and difficult to carve. Local artists developed a minimalist style, exploiting the shape of the stone with minimal shaping.
GJOA HAVEN and TALOYOAK, also west of Hudson's Bay, evolved distinctive styles in response to a lack of easily carved stone. TALOYOAK had no stone, but its artists became skilled carvers of whalebone. The constraints imposed by this material -- it is extremely difficult to carve -- forced artists to "find" the subject lurking in the piece of bone at hand. Frequently the result was whimsical, if not grotesque. Gjoa Haven had stone, but it was so hard that in the early days stone was sent to Gjoa Haven from other communities with more easily carved stone. Judas Ullulaq and other Gjoa Haven artists became known for carvings with grotesque features, reminiscent of Monch's "Scream."
Many collectors are baffled by the syllabic signatures on the bottom of pieces that are sometimes described as "anonymous" or "signed in syllabics." As a service to our clients, we have an INUIT ARTIST SEARCH TOOL that identifies potential matches for syllabic signatures, E-numbers, and Roman signatures. For a quick link to the tool, go to the GALLERY page. For a more complete explanation of deciphering Inuit signatures, go to the NEWS page.
To see the Inuit Sculpture in stock, click on the WORKS tab.
About Inuit Sculptures (PDF)